Double articulated aerial platform telescopic boom DA320 ForSte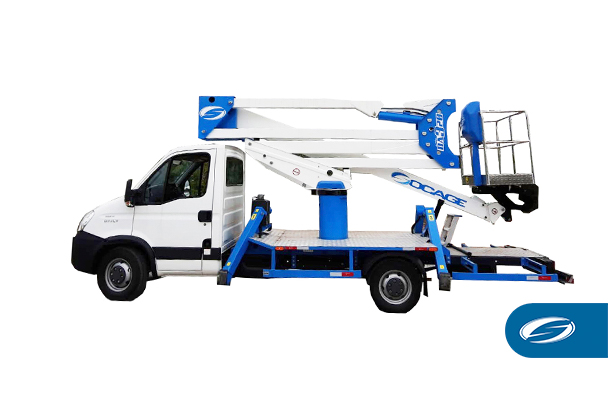 Urban solution with extremely compact dimensions
Front fixing of the basket
We present the proposal of a double articulated aerial platform and a SOCAGE DA320 forSte telescopic boom, fixed to the chassis of small vehicles. High quality steel frame. Above the chassis is the base that supports the structure.
Equipment suitable for lighting work.
Made of sheet steel, it consists of a folded main body and electro-welded reinforcements. It is installed on the base that supports the structure.
The rotation is guaranteed by the base set, hydraulic motor and worm screw, with a maximum of 7 turns in each direction of rotation.
Double pantograph bar group
Allows for a reduction in the width of the installation, a distribution of stabilizing loads makes it possible to overcome obstacles between the equipment and the work area. The two articulated bars are the connecting elements between the rotating tower and the main telescopic boom. The two articulated bars are the connecting elements between the rotating tower and the main telescopic boom.
Boom in tubular design, with a working area from -25° to +70° with a horizontal base. All electrical conductors and hydraulic tubes are located inside the boom, so there are no external elements that can be damaged by impacts or collisions with obstacles during the various phases of work.
System with mechanical leveling bar, activated with the articulated boom of the platform.
Structure: controls located on the base and on the basket, manufactured with an electro-hydraulic distributor sensitized on the base and electric buttons on the basket (both with levers protected against accidental action). Electric hourmeter in the vehicle cab.
Hydraulic installation power supply
Power supply with hydraulic pump coupled to the truck's power take-off (or with an electromagnetic clutch), with control in the cabin, with a luminous LED for insertion into the appropriate box located on the vehicle's panel In case of lack of predisposition for the insertion of the power take-off in the vehicle, it is possible to install an autonomous group with heat engine (with gasoline or diesel power) or electric motor 230 V-50 Hz and relative hydraulic pump (according to request, it is possible to supply suitable gasoline/diesel current generator 220V-0Hz-3kW).

TECHNICAL CHARACTERISTICS
Maximum working height*: 20 metros
Maximum height of basket*: 18 metros
Maximum lateral reach*: 9,50 metros
Tower Rotation: Continuous
Basket Rotation: 90° + 90°
Basket Capacity: 225 Kg
Type of Basket: Aluminium
Electrical Outlet: 110 ou 220 V
Proportional Hydraulic Control
Previous stabilizers: A
Rear stabilizers: A
Minimum PTB: 3.5 tons
Color overhead: White RAL 9016 + Blue RAL 9005
(*) It depends on the vehicle where the assembly is carried out.

SECURITY DEVICES
Emergency stop buttons
Hand pump for emergency lowering
Comandos manuais para descida de emergência
Maximum pressure valves on hydraulic system
Thermal protections on the electrical system
Winches for safety belts in the basket
Cabin anti-collision system on the work platform
Protected shut-off valve
Emergency stop command
Shielded shut-off valve on all cylinders
Thermal protection in electrical installation
Four (04) hydraulic stabilizers
Arm lock with the equipment not stabilized
Electronic inclinometer with arm lock out of leveling
Interlocking stabilizers/arm
Basket control equipped with horn and vehicle engine starting stop
Stabilization command, meeting NR 12 and 18
CUSTOMIZE YOUR AERIAL BASKET MOUNTED ON TRUCK
Our story began 40 years ago