Articulated telescopic aerial platform ForSte 13,5 ATi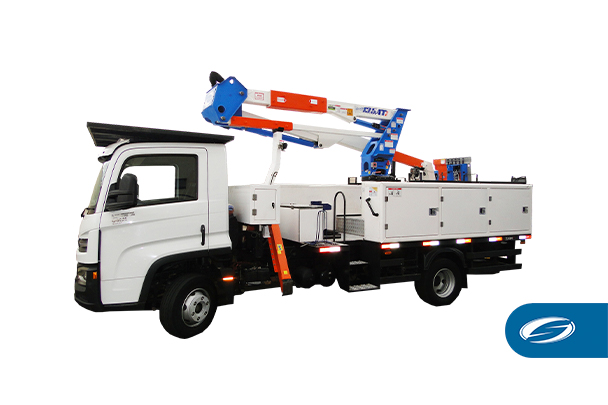 The best cost-benefit of the market
Easy access to the basket
SOCAGE ForSte 13.5ATi articulated telescopic aerial platform, for installation in vehicles from 5T of PBT.
With the following technical characteristics:
Produced in high-quality sheet steel, it is composed of a folded main body and electro-welded reinforcements. The rotation is given by a base set of European technology with hydraulic motor and infinite rotation.
Single pantograph bars group
The pantograph system allows for a reduction in the width of the installation, a better distribution of loads, which makes it possible to overcome intermediate obstacles between the equipment and the work area. The two articulated bars are the connecting elements between the rotating tower and the link supporting the main boom.
Telescopic boom in tubular design, with working area from -11° to +85° on a horizontal base. All hydraulic tubes are located inside the boom, so there are no external elements that can be damaged by impacts or collisions against obstacles during the various work phases. Access to them is facilitated through a window on the pantograph link.
Basket leveling system using two hydraulic cylinders, master slave system with correction command in the basket and tower.
Made of fiberglass with dimensions 0,7 x 0,7 x 1,1 mcomplete with insulating linear and steps for better access.
Basket with 2 hydraulic distributors for moving the equipment, an emergency hydraulic valve and a tool command with double pressure regulation, 175BAR on the machine and 140BAR on the tool. Tower with 5-way distributor and diverter/emergency control.
Radio system for starting and stopping, acceleration and deceleration.

TECHNICAL CHARACTERISTICS
Maximum working height*: 13.5 meters
Basket base height*: 12 meters
Maximum lateral reach*: 8.5 meters
Basket Capacity: 136 Kg
Basket: Fiberglass
46kW insulation
Proportional Hydraulic Control
360° Tower Rotation (Infinite Rotation)
Basket Rotation 90º + 90º

(OPTIONAL)

Previous stabilizers: 2 x A
PTB minimum: 5T
Color overhead: White RAL 9016 + Blue RAL 9005
(*) It depends on the vehicle where the assembly is carried out.

SECURITY DEVICES
Emergency stop buttons
Hand pump for emergency lowering
Flanged shut-off valves on all cylinders
Maximum pressure valves on hydraulic system
Thermal protections on the electrical system
Winches for safety belts in the basket
Remote controls in the vehicle's on/off and accelerate/decelerate control basket
CUSTOMIZE SMALL TRUCKS WITH TELESCOPIC AERIAL PLATFORM
Our story began 40 years ago