SOCAGE ForSte 13CADI Aerial Platform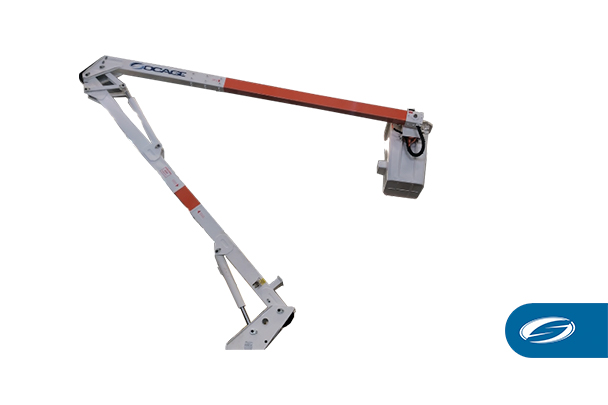 Designed, manufactured and tested to the highest standards
Connecting rod joint system
Horizontal base working area
We present the SOCAGE ForSte 13CADI aerial platform, attached to the chassis of trucks weighing 5 tons or more. High quality steel structure. On the chassis is found the base that supports the structure.
Articulation system by connecting rods (power link), increasing the efficiency of work at height quickly and economically. Front stabilizers (optional) and type 'A' back stabilizers with 3.2 m of opening, which guarantees a better operational stability. 360° continuous wheel rotation system, with drive controls on the turret and basket with the best ergonomic position.
Plume in tubular ejection, with a horizontal base work area. All the hydraulic tubes are located inside the plume, as there are no external elements that could be damaged by impacts or collisions with obstacles during the different phases of work.
System with insulated or insulated palo to level the basket.
Basket leveling system with the use of chains, considerably reducing the volume and maintenance cost.
Placement of the basket made to facilitate access and eventual removals and cleaning.

TECHNICAL CHARACTERISTICS
Maximum working height *:

13 meters

Height of the base of the basket *:

11.5 meters

Maximum lateral reach *:

6.2 meters

Basket Capacity

136 Kg

Type of

fiberglass

basket

46KV

insulation

Proportional hydraulic

controls

360°

Tower Rotation
Basket rotation: 0 °
Rear stabilizers: A
PTB minimum:

5T

Aerial part of color:

Blanco RAL 9016

160 BAR working pressure

(*) It depends on the vehicle where the assembly is carried out.

ISOLATION
Dielectric test carried out in a laboratory issued with a technical certificate

Insulated upper arm for high voltage work category "C" 46kV

Insulating coating with technical certificate

Electrical plumbing according to ANSI A92.2 and Brazilian standard NBR 16092

SECURITY AND EMERGENCY SYSTEMS
Security control for unauthorized operations in the basket.
Operation system in the aerial part and in the tower, with priority for the tower.
Hydraulic cylinders to lift the upper and lower arm equipped with check valves.
Automatic basket leveling system (rocker, chain, hydraulic, pantograph) or mixed system.
Stabilizer shoes, with double retention valves.
Security system that prevents the retraction of the stabilizers without retraction of the arms in the resting position (malla).
Landing point on the chassis.
Emergency system with hand pump.
Inclinometer (burbuja level).
Emergency system activated by hand pump.
Our story began 40 years ago