Articulated aerial platform A314 ForSte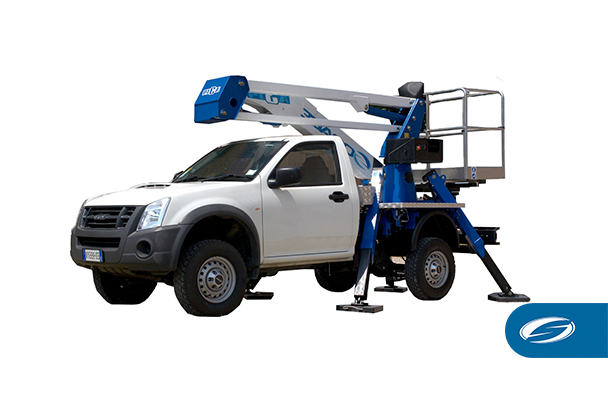 Maximum performance over pick up's
Unrestricted free work area
Off-road performance and finish
We present the proposal of the articulated aerial platform and with a SOCAGE A314 forSte telescopic boom, fixed to the chassis of vehicles with 4×4 traction, as long as they are with a simple cabin. High quality steel frame.
Equipment suitable for lighting work.
Above the subframe is placed the support for supporting the aerial part – thin tube. As a finish, a non-slip aluminum floor surface is installed, in the lowered version, to facilitate loading and unloading maneuvers of work tools.
It consists of an inclined main body and welded reinforcements. Installed on the frame's swivel bracket. The rotation is ensured by the base of the structure by a hydraulic motor and worm screw. The endless hydraulic manifold present in the tower allows the continuous rotation of the structure in relation to the subframe.
The group guarantees a compact aerial platform, a favorable distribution of loads and makes it possible to overcome obstacles between the equipment and the work area. The articulated bars (upper and lower) are the connecting elements between the rotating tower and the main telescopic arm.
Telescopic arm with extension and balance made with two hydraulic cylinders. Extension and return are made of a plastic material with a low coefficient of friction. The arm has a working range of -25° to +70° degrees relative to the horizon line.
All electrical and hydraulic conductors are housed inside a plastic cable holder, which flows inside the arm (along with the arm extension cylinder), so the arm is completely deprived of external elements, which can promote the cause of collisions with obstacles during the various phases of work. Therefore, the adoption of the cable holder allows you to quickly perform any type of maintenance and/or replacement required, minimizing downtime.
Hydraulic leveling system with double cylinder, activated in parallel with the arm lifting cylinder, with the possibility of an eventual manual recovery, if necessary, directly with the basket's hydraulic controls.
Stabilization: The stabilizer controls are located on the right side of the vehicle, in a protected position, and are composed of a hydraulic distributor with 4 levers (one for each stabilizer). The lowering and raising of the stabilizers is carried out by controlling the respective lever of said distributor.
Superstructure: hydraulic controls in dual station, tower and basket, made with hydraulic valves and levers protected against accidental manipulation.
Hydraulic installation power supply
Powered by a hydraulic pump coupled to the truck's power take-off, with electronic control placed on the truck's panel, equipped with a light signal.

TECHNICAL CHARACTERISTICS
Maximum working height*: 13,70 metros
Maximum height of the basket*: 11,70 metros
Maximum lateral reach*: 6,50 metros
360° Basket Rotation
Basket Capacity: 225 Kg
Type of Basket: 1.4 x 0.7 x 1.1m / Aluminum
Proportional Hydraulic Control
Previous stabilizers: A
Posterior stabilizers: H
Minimum PTB: 2.9 / 3.5 tons
Color overhead: White RAL 9016 + Blue RAL 9005
(*) It depends on the vehicle where the assembly is carried out.

SECURITY DEVICES
Hand pump for emergency lowering
Manual controls for emergency descent
Shielded valves on all cylinders
Maximum pressure valves in the hydraulic system
Thermal protection in the electrical system
Interlocking stabilizers/boom
Magnetic rotating light for vehicle cabin
Hooks for safety belts in the basket
Manual leveling of the basket (closed machine)
Remote Control, from the basket, to drive the vehicle's engine and horn
Four (04) stabilizer shoes, for PBT pickup truck up to 3000 Kg
Our story began 40 years ago