Telescopic articulated aerial platform SOCAGE ForSte 15Ai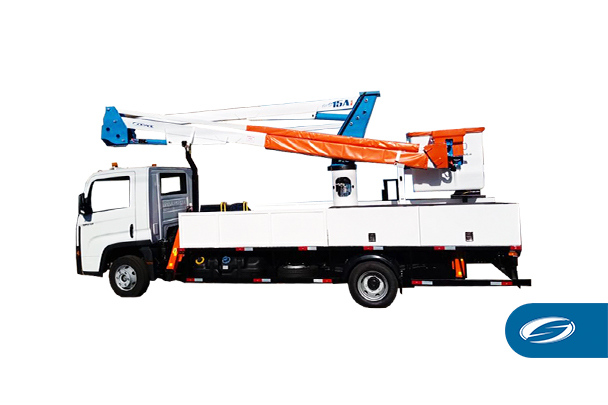 SOCAGE forSte 15 ATi telescopic articulated aerial platform, with the following technical characteristics: Above the chassis is the base that supports the structure.
Single pantograph bars group
The group allows the reduction of the installation width, a distribution of stabilizing loads allows to overcome intermediate obstacles between the equipment and the work area. The two articulated bars are the connecting elements between the rotating tower and the main telescopic boom.
Boom in tubular design, with working area from -7° to +75° based on the horizontal. All hydraulic tubes are located inside the boom, so there are no external elements that can be damaged by impacts or collisions against obstacles during the various work phases.
Made of fiberglass with dimensions 0,7 x 0,7 x 1,1 m complete with insulating liner and steps for better access.
Basket with 2 hydraulic distributors for moving the equipment, an emergency hydraulic valve and a tool command with double pressure regulation, 175BAR on the machine and 140BAR on the tool. Tower with 5-way distributor and diverter/emergency control.
Manufactured basket positioning for ease of access and eventual rescues.

TECHNICAL CHARACTERISTICS
Maximum working height*: 15 meters

Basket base height* 13.5 meters

Maximum lateral reach*: 7 meters

Machine weight: 1.500 Kg

Basket Capacity: 2 x 136 Kg


Proportional Hydraulic Controls

360° Tower Rotation (Infinite Rotation)

PTB minimum: 6T


Angle of Work Pantograph: 0º a 85º

Angle of Work Arm: -7º a 75º

Maximum Permitted Inclination: 5º

Insulation: Category "C" 46kV – "B" 69kV

(*) It depends on the vehicle where the assembly is carried out.

SECURITY DEVICES
Emergency stop buttons
Hand pump for emergency lowering
Commands
Flanged shut-off valves on all cylinders
Maximum pressure valves on hydraulic system
Thermal protections on the electrical system
Winches for safety belts in the basket
Remote controls, basket, engine start or stop and vehicle horn.
CUSTOMIZE YOUR AERIAL WORK PLATFORM
Our story began 40 years ago