The aerial platform mounted on pick-up of the largest reach of the market.
The Socage A314 aerial platform is characterized by its simple joint. And are 14 meters high working.
Let's talk a little more about this equipment that complements the Socage product range!
It is a lightweight and compact aerial platform that can be installed also in vehicles with 4 4 traction – Off-Road, lowering the limits for stabilisation in hard-to-reach areas with adequate security. Another differential of this model is the telescopic boom. This brings precision in height operation, adding versatility and technology in aerial work.
The applications of this equipment are diverse: Works in urban centers, rural or construction sites accept the A314 aerial platform, see below the different types of assembly:
Aerial platform mounted on pick-up
Assembly in pick-up: We indicate for work in irregular lands, where the vehicle needs to be special for access, as in land roads in areas more distant from the urban center or also in works with the soil unfinished.
This set is the most compact for equipment that reaches a height of 14 meters. It excellently meets the need for aerial work.
Aerial platform mounted on truck
Truck assembly: For work in urban centers, the best option is to implement small trucks with the A314 aerial platform.
Taking into account the cost-effectiveness, the set remains compact and accesses restricted seats for larger vehicles.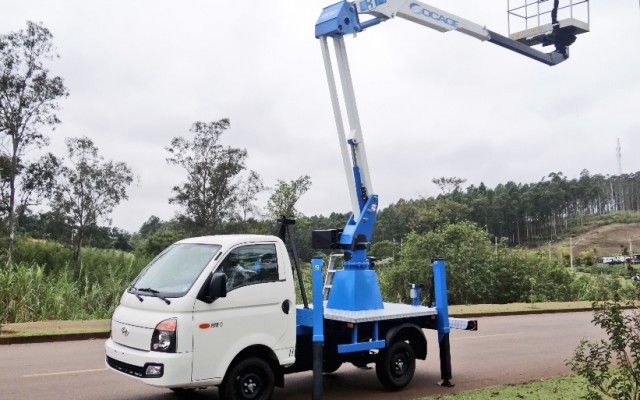 Aerial platform mounted on bucket truck – A314
Nesse tipo de montagem é possível instalar baús para transportar ferramentas. É uma plataforma sempre pronta para o trabalho.
Saiba mais sobre as características técnicas da plataforma aérea no link ~> Plataforma aérea montada sobre pick-up – A314